Basement Waterproofing and Crawl Space Encapsulation in Elkins, WV
Elkins experiences warm, wet summers and freezing, snowy winters. These weather conditions lead to a lot of moisture in the soil, putting your home's foundation at risk.
Services
Date & Time
Contact Info
Complete
Schedule Your Free Inspection
What do you need help with?
Charleston Local Office
Basement Authority of West Virginia
132 Rocky Step Rd.
Scott Depot, WV 25560
(304)-898-1872


Hours of Operation
Monday – Friday: 7 am – 11 pm
Saturday: 8 am – 11 pm
Sunday: 10 am – 11 pm
Award-Winning Solutions in Elkins
Basement Authority of West Virginia (BAWV), a Groundworks Company, specializes in helping homeowners with their foundation repair, basement waterproofing, crawl space, and concrete needs. Our top priority is providing high-quality home repair solutions and personalized service across West Virginia. With fully trained technicians, industry-leading products, and nationally backed warranties, BAWV is here to restore your foundation or basement.
Why Homeowners Choose Basement Authority of West Virginia
Since 2003, Basement Authority of West Virginia – a Groundworks Company – has specialized in the installation of high-quality products for foundation, basement, crawl space, and concrete issues such as foundation cracks, musty odors, excess humidity, and a multitude of other problems. Many homeowners in West Virginia trust us with their foundation repair needs because we are proven to be the best in the business. At every point of contact with our staff, we strive to exceed the expectations of our customers. Customer service, knowledge, and high-quality equipment put us at the top of the list!
Visit Company (Opens in New Tab)
Our Services for You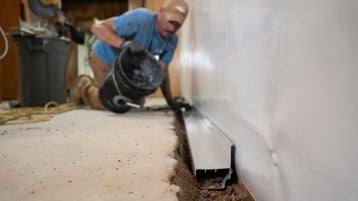 Basement Waterproofing in Elkins
Elkins' high annual rainfall and snowfall make issues like flooding, water damage, or wall cracks nearly unavoidable. The local sandy and clay loam soils absorb a lot of water after precipitation, leading to pressure on basement walls and eventual leaks. Basement Authority of West Virginia offers quality solutions tailored to protect your home from WV's unique environment. Tools such as below-floor drains, dehumidifiers, and sump pumps put water back in its place and keep your basement safe.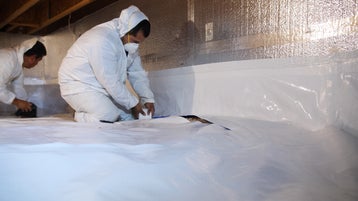 Crawl Space Repair & Encapsulation in Elkins
Crawl spaces offer easy access for repairs or utilities—so they require proper protection against moisture damage. Elkins' climate poses a particular challenge to these areas due to humidity and heavy rainfall throughout the year. Fortunately, Basement Authority of West Virginia has effective solutions, including the installation of vapor barriers, vent covers, and crawl space drains. These tools move and keep water out of your crawl space to prevent mold, wood rot, and high humidity in your home. Trust our experts to safeguard your foundation for years to come.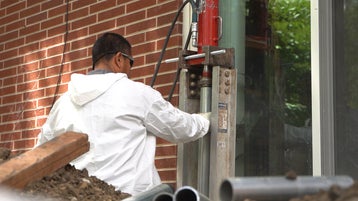 Foundation Repair in Elkins
Your home's foundation relies on sturdy soil to provide support. However, wet weather in Elkins causes problems such as settlement and sinking or foundation heave, both which lead to structural issues inside your home. Uneven floors, bowing walls, and sticking doors and windows are just a few of the signs that your foundation is damaged. At BAWV, we offer foundation solutions designed to stabilize and protect your foundation long-term. Our state-of-the-art tools, including pier systems, wall anchors, and crawl space support jacks, provide unparalleled stability for your home's foundation.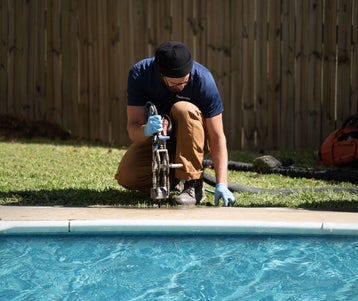 Concrete Lifting in Elkins
Are you dealing with cracked and uneven concrete due to heavy precipitation or uneven soils? Basement Authority of West Virginia has a solution built to solve the problem quickly and effectively —PolyRenewal™. This innovative polyurethane injection system lifts and supports concrete in just 15 minutes. Additionally, its waterproof design protects soil from moisture, preventing soil expansion and erosion in the future. Say goodbye to tripping accidents and hello to stable, well-maintained concrete.  
FAQ
Foundation deterioration can be caused by a variety of sources, but they always fall into one of three categories: pressure, lack of support, or faults. Despite the fact that each of these issues is unique, they nonetheless express themselves in similar ways. The most typical signs of foundation problems include spreading cracks, unevenness, dampness, sinking, and heaving. You may discover secondary issues such as wood rot or mold if the damage to your Clarksburg foundation has been there for some time. Because the symptoms are very consistent regardless of the cause, it is vital to get professional assistance in determining the exact cause and the right treatment.
A basic fault or shortcoming in the building or structure of your Clarksburg property's foundation is the least likely but most significant underlying reason. Defects can develop as a result of bad design, such as architectural errors, or the use of inferior materials, such as improperly mixed concrete. In either situation, the damage could be difficult to repair, and foundation replacement, in part or in whole, would almost certainly be required. On the other hand, damage caused by pressure, or a lack of support can typically be repaired and avoided.
Only the ground can exert sufficient pressure to cause damage to a structure (and incidentally, issues with support tend to be soil-based as well). The most prevalent soil in West Virginia is Monongahela silt loam, however, it isn't always kind to foundations. Unfortunately, with time, this type of soil settles, creating a gradual shift in the foundation as well as the production of fractures and structural weaknesses that allow water to access the foundation and cause substantial damage. This type of soil may begin to move if it is continually flooded or drenched. When this happens, the hydrostatic pressure around a house can rise significantly, increasing the likelihood of soil runoff. Both of these issues can lead to foundation deterioration, including fragmentation, sinking, cracking, and lateral displacement.
The freeze-thaw effect describes how water freezes and then thaws again into a liquid form. If you want to minimize structural damage, you must protect the concrete on your Clarksburg property from moisture exposure due to the freeze-thaw phenomenon. When water condenses into ice, it expands by around 9%. Despite appearances, growing ice has the ability to displace concrete particles. The concrete weakens structurally over time when there is any form of displacement.
The freeze-thaw cycle can cause small craters to grow inside and along the surface of the concrete. Concrete is porous to begin with, but moisture seeps through even more with each new micro-tear. As more water travels through the concrete, the freeze-thaw cycle displaces the soil beneath it. You'll wind up with an uneven, structurally weak slab once the concrete sets. On a slab that has been exposed to moisture over the winter, cracking is unavoidable due to the decreased tensile strength of porous concrete.
The severity of the winter climate dictates how dangerous it is to be exposed to the freeze-thaw cycle. Because some slabs like in sidewalks aren't considered "heavy-duty," freeze-thaw has a considerably bigger impact on concrete with low psi. Because it keeps the snow off your concrete throughout the winter, covering it is a vital part of slab protection. This way, if your slab settles, you won't have to replace it due to breakage that prevents repairs.
Water seeps through cracks in basement walls, usually formed when hydrostatic pressure pushes up against the foundation. For that reason, foundation solutions exist to repair basement walls and keep them supported. Additionally, some basement waterproofing solutions drain water out of your basement to prevent seeping water from causing damage. At Basement Authority, we use wall repair beams and carbon fiber reinforcements to realign your basement walls and close any cracks that may have formed. In conjunction with these repair tools, we also install floor drains and vapor barriers to keep water from leaking into your basement in the first place.
Mold needs two things to grow – relative humidity over 50 percent, and organic material to feed on. Unfortunately, your crawl space is prone to both of these conditions. Most crawl spaces are built with wooden support beams which serve as a food source for mold. Moreover, many crawl spaces are built with open vents and directly above dirt ground. Both of these contribute to rising humidity in your crawl space. Using crawl space encapsulation prevents mold build up by removing moisture from the equation. Vapor barriers, dehumidifiers, crawl space supports, vent covers, and crawl space drains all reduce water damage below your home. When mold has no moisture, it quickly dies.
Publish Date:
Last Modified Date: